Floranext's Route With Map Tool
Our Route with Map tool (part of our New Delivery Manager), gives users the option to route using a Google Generated Map to visually manage your deliveries - speeding up your delivery routing: 
View deliveries on a map
Zoom in/out of map area
Check order details by mousing-over icons 
Easy view of delivery status based on icon color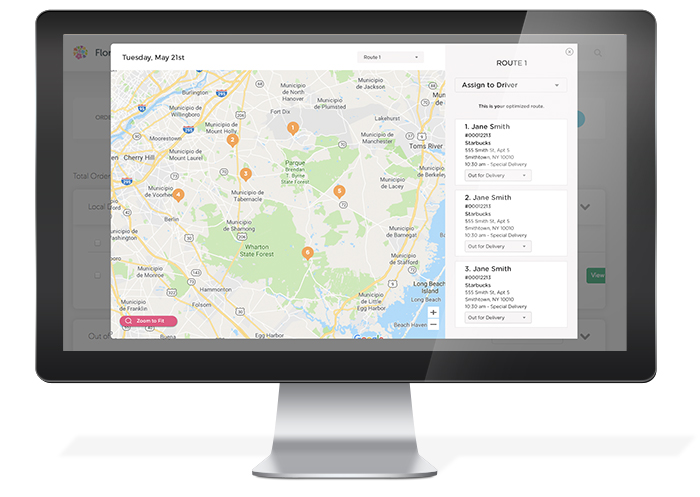 How to use the Route with Map feature
Step 1 - On Your Deliveries Page, Click Route With Map
Click the Route With Map button, at the top of your Deliveries Manager Page, on the To Deliver section. (No need to fuss with the checkboxes while using Route With Map).
Step 2 - View Deliveries on Map
Grey icon - deliveries marked as "Order Received"
Half-Orange icon - "Design Complete" and "In Progress" 
Orange icon - "Ready for Delivery"
Hover over icons for an at a glance preview of your Deliveries. Deliveries that share the same address will be grouped under a single icon. Click the "X" or navigate to another icon to clear the Multi-address preview.
Step 3 - Click Location Icons to Add to Route
Build a route by clicking the delivery icons you would like to include. 
Step 4 - Hit Route Button to Create an Optimized Route
Once your route is complete, hit the Route Button. This will create a Optimized Route using Google Maps API to make the most efficient route available.
Step 5 - View Routes
Each route has a Show Map button, which gives a map view of all of the orders in that route.
Notes on Route With Map
It is required to use Floranext's Google Maps Routing setting to access the Route With Map tool. (Located in Settings > POS Settings > POS Settings - Other Options).
While it's possible to view more than 23 Deliveries with the Route With Map tool, Google Maps API can only generate a Route with a Maximum of 23 addresses at a time.